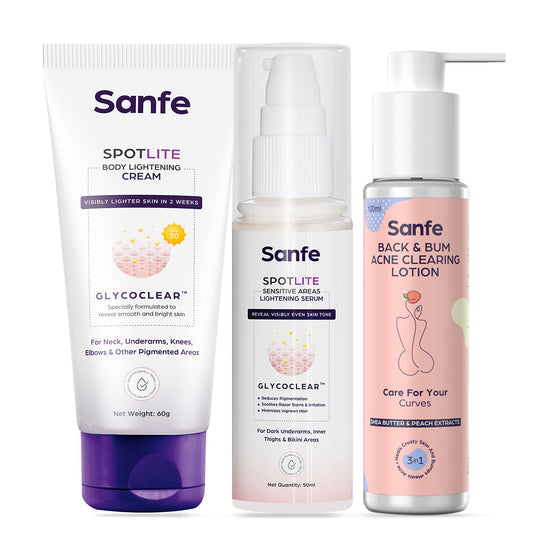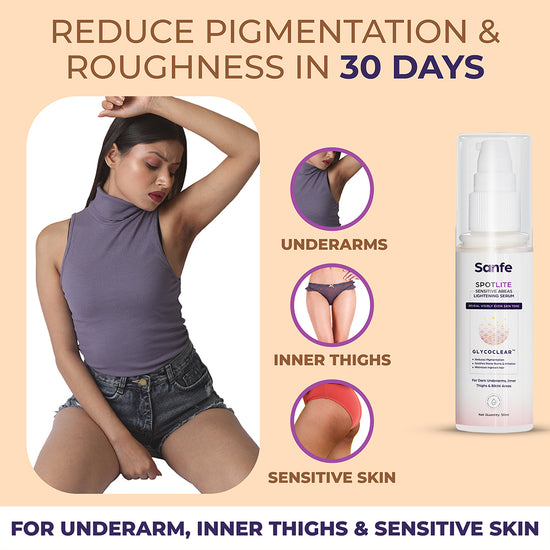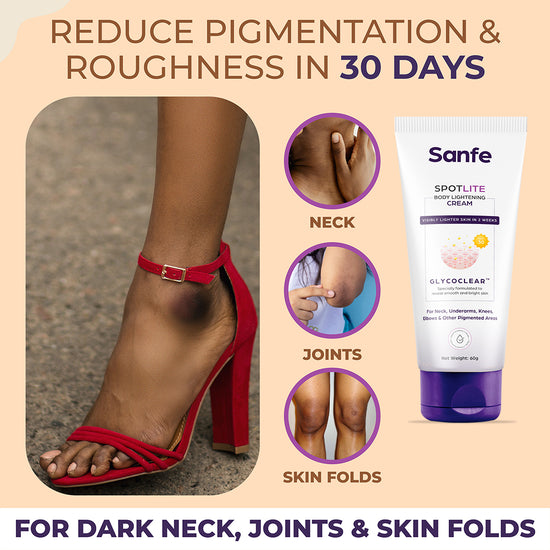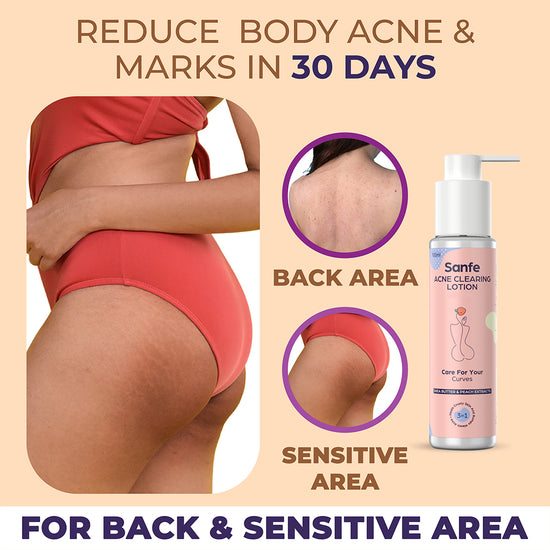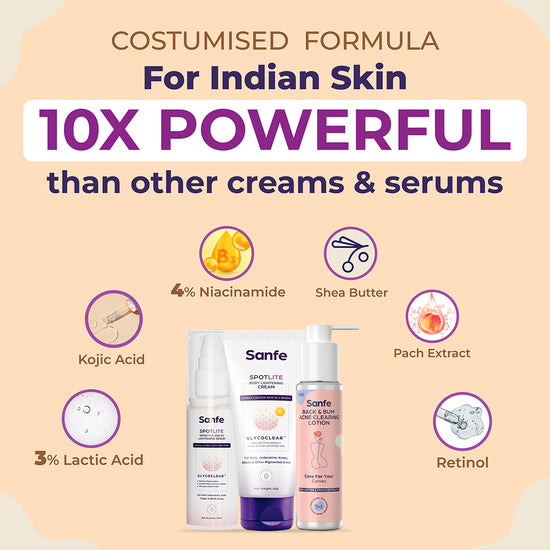 Sanfe Body Acne & Depigmentation Kit is a 3 step body care routine for body dark patches, acne and dryness. More than 90% of women have seen visible results within 30 days of regular usage. Normal winter creams and lightening creams fail to cure stubborn body skin imperfections, and thus Sanfe has come with a dermatologically approved formulations enriched with a unique and soothing combination, to help you fight both acne and pigmentation related concerns.
Awesome Product
I'm just so surprised to see visible results in just few days. And I'm so excited for the results by the time I complete the product.
Overall a perfect combo
I have always wanted to wear a bikini but my bum and inner thighs were really dark dues to hormonal and chaffing but not now. I tried this trio and it helped my body skin a lot. For bum and inner thigh areas, i am using 3 in 1 privy lightening serum and acne clearing lotion and for my dark joints and neck tanning, i am using 6 in 1 glo boost cream. Overall a perfect combo to have glowing body skin.
Amazing results
I have been using this for the past 2 months and it helped my skin. I have been struggling with bum and back acne and had patches on my bum area. I tried the 3-in-1 privy lightening serum for my bum discolouration and layered it with acne-clearing lotion. It does wonder on my skin. The bumps and patchiness on my bum and back area are reduced a lot. My skin never felt this much smooth and clear. If you are dealing with a similar situation you must use this.
When nothing worked sanfe did
I applied so many home remedies and nothing worked. I tried ayurvedic products but that also didnt work for my dark underarms, neck and back acne. At last, I tried sanfe Body Acne & Depigmentation Kit. And thank god i did try it. It changed my skin dramatically. It made my underarms, inner thighs, back, bum, joints lighter. I started to see the results within 30 days, as they claim. Sanfe i am going to be your regular costumer.
Stunned by the results
I thought the serums and creams are like other brands; only fake claims but sanfe proved me wrong. All three products are amazing. I used and still use 6 in 1 glo boost cream for my neck tanning and elbows, trust me guys it made my skin lighter with regular use. The 3-in-1 privy lightening serum, I use it for my underarms and it turned my dark underarms brighter and smooth. The acne-clearing lotion is really amazing. I have always struggled with back acne and it helped me with that. My brother also uses this as he also suffers from back acne