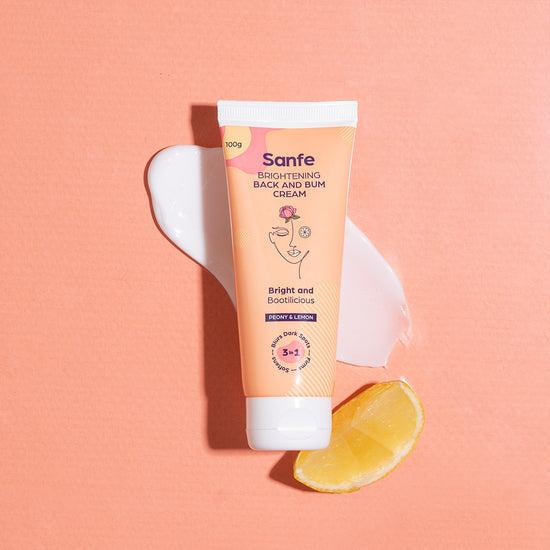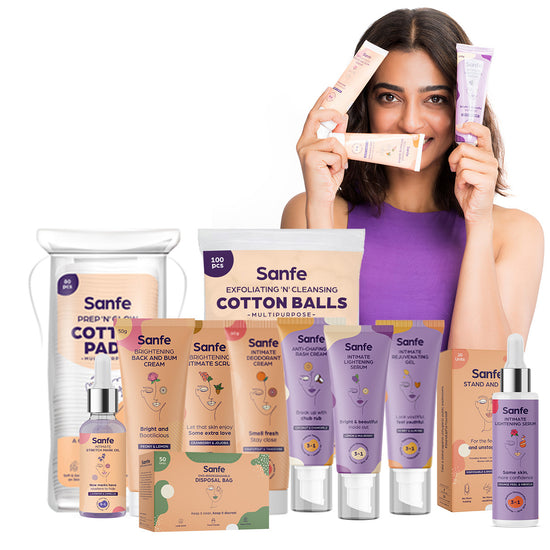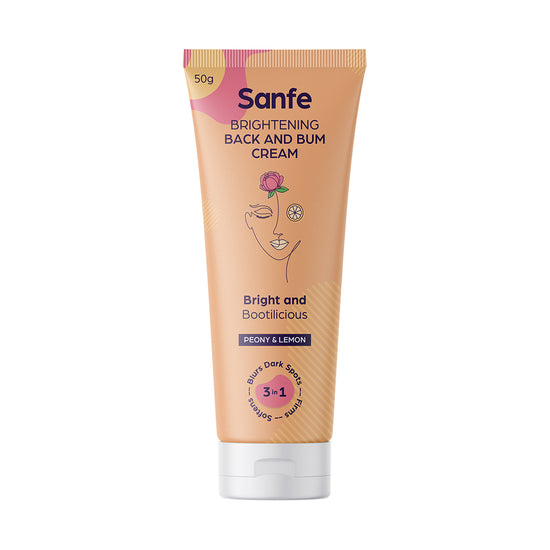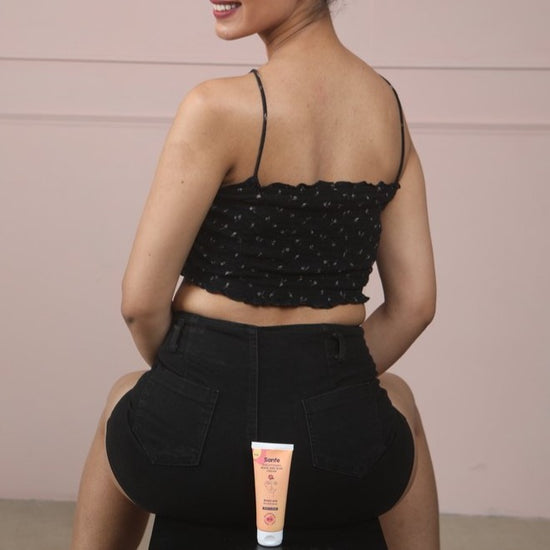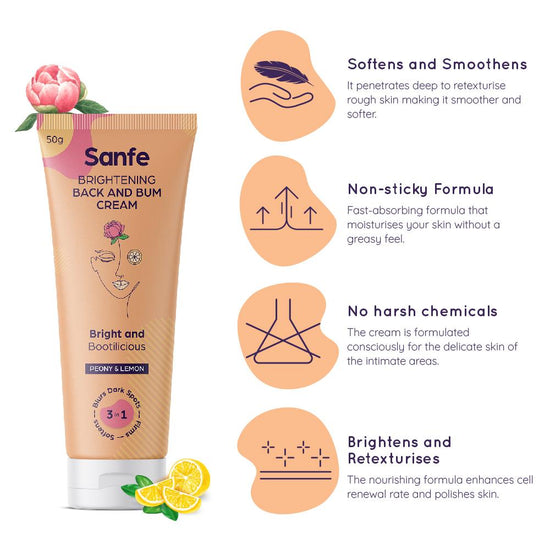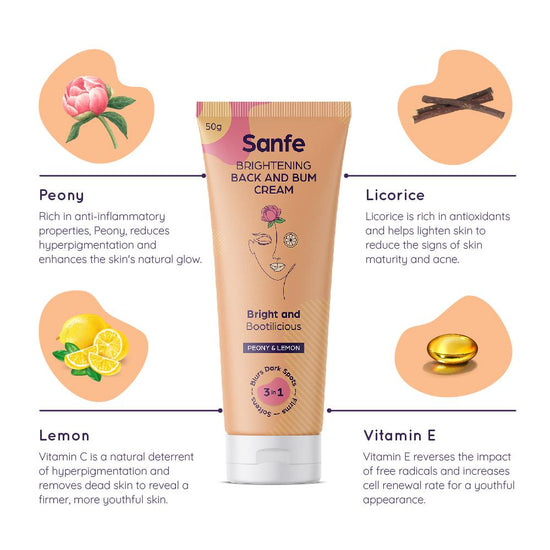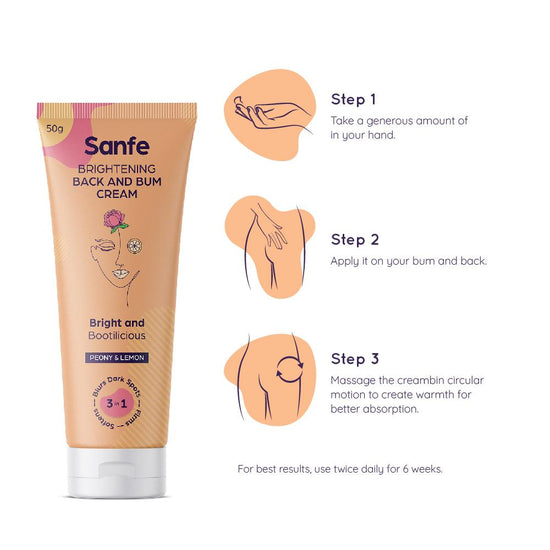 Made with 100% natural ingredients, Sanfe Back and Bum Cream nourishes and smoothens the tough skin for an even-toned look! It's lightweight and non-sticky formula absorbs into the skin for natural suppleness.
— BENEFITS —
No harsh
chemical
Softens
and Smoothens
Brightens and
Retexturises
Non-sticky
Formula
— INGREDIENTS —
Peony
Licorice
Lemon
Vitamin E
— STEPS —
Step 01
Take a generous amount of cream in your hand.
Step 02
Apply it on your back and bum.
Step 03
Massage the cream in a circular motion until it is completely absorbed.
— Get To Know More —
How can Sanfe Bags Full Kit Set be helpful?
Yes Ma'am, yes Ma'am, one bag full!
One bag full of the combo - 1 menstrual cup, 1 bottle of intimate wash, 1 pack of intimate wipes, and 1 pack of Bamboo Pantyliners.
The modern way of collecting your periods within your body & disposing of it, with a straight 10 hours of leakage proof - embrace the menstrual cup. Keeps you fresh and clean - the intimate wash and the on-the-go intimate wipes. Last but not least - the 100% organic Bamboo Pantyliners make sure that your periods end well, with no rashes at all.
How does intimate wash help me? Why should I not use soap?
Intimate Wash holds special components which maintain the pH balance of the delicate private area on your body. This helps you to get rid of the discomfort and itching and leaves you with a fresh feeling. Regular bathing soap is incapable of maintaining the exact pH balance of the delicate area and killing the germs. This is why you should be avoiding the use of soap.
Is it scientifically proven that intimate wash is best for women's hygiene?
There are various ways of taking care of your personal hygiene. Intimate Wash is not particularly sworn upon by scientists, but they are definitely one of the most important products.
What if I get rashes after using wipes?
The Intimate Wipes are gynecologist-approved and soaked in a purified water solution, making it hypoallergenic and safe for sensitive skin.
What is the right way to use wipes?
You should first tear open the packet, take out the wipe, and then unfold and gently wipe from front to back. Use only once and then throw away the used wipe. Do not flush.
How are pantyliners different from pads?
Pantyliners are to provide support and safety against a leak when the date is near, or for unwanted discharges through the month. They are thinner and less absorbent than pads. While pads are used during menstrual cycles, pantyliners are used at the beginning or towards the end of a menstrual cycle.
Is it safe to use pantyliners constantly over a period of time?
Our pantyliners are made of 100% organic cotton material, to provide absolute safety for extended usage. They are comfortable and leave no impression on body-hugging clothes. Pantyliners can be used throughout the month for regular discharges as well as at the beginning or towards the end of a menstrual cycle.
I've never used a cup before. Is it hard? Will it hurt?
It might take just a little time to get the art! But some are naturals at it too. You must read the instructions diligently and relax as much as possible while using it for the first time. The medical-grade silicone makes it absolutely soft so that it doesn't hurt when inserted.
How do I understand which size of Menstrual Cup to use?
The size of the Menstrual Cup depends upon your age, body weight, and flow. If you have a light flow, please go ahead with size "S", for a moderate flow where you use a high absorption pad and change twice a day, please use size "M" and for a heavy flow where you change your high absorption pad 3-4 times a day, you should select size "L".
— Delivery & Returns —
How many days do you take to deliver the orders?
We take 3-4 business days to deliver normally, from the day of placing the order.
How can I track my order?
After placing the order, you will get an Order ID with which you can track the status of the order on our website. Once the order is shipped, we will provide you with a tracking link so that you can track the movement of your order.
How can I return a product?
Please note that the return and refund policies are different for each product. To return a product that is eligible, please reach out to our customer care number
9310054380
or send us a mail at care@sanfe.in.
How will I get a refund for an order I have returned?
Refund is provided for prepaid orders only. Your refund will be initiated within 3-5 working days of receiving the refund request and authorization of the refund. The refund amount will be credited back into the same account (online banking, credit card, debit card, or whichever available) that was used to make the purchase.
What happens if I receive damaged/wrong products?
It is quite unlikely to receive damaged products since we take utmost care of everything related to hygiene and safety. In case you receive any damaged/wrong products, please reach out to our customer care number
9310054380
or send us a mail at care@sanfe.in at the earliest.
I have purchased sanfe underarm deodrant, sanfe lightening , bum cream all the three products were very simple to use and I am hoping for the best results .I see a difference by using these within 3 days. I recommend to buy these products.
Amazing product to use
It's been two weeks that I have been using this back & bum cream from Sanfe. I am surprised that within this span, it has successfully softened the hard skin of the bum and made it soft.
Snafe back and bum cream
Worth it👍definitely go for it👍
most recommend❤
Sanfe Brightening Back and Bum Cream - 100g