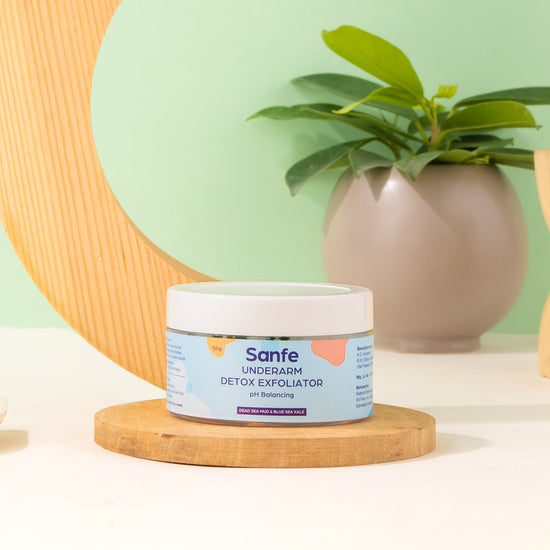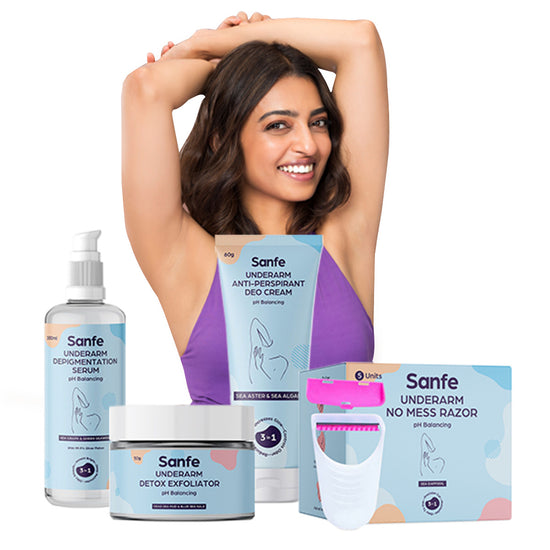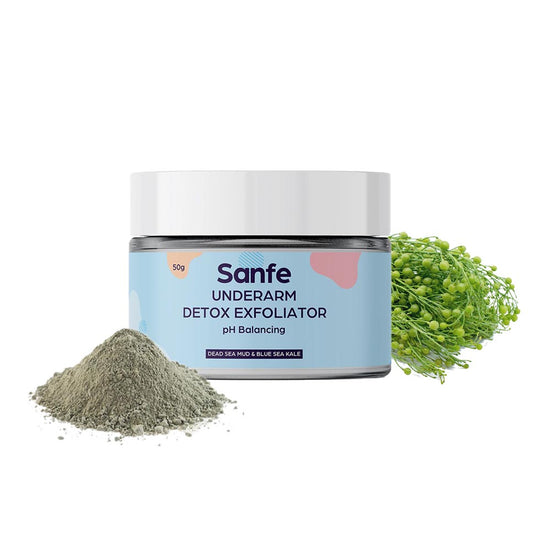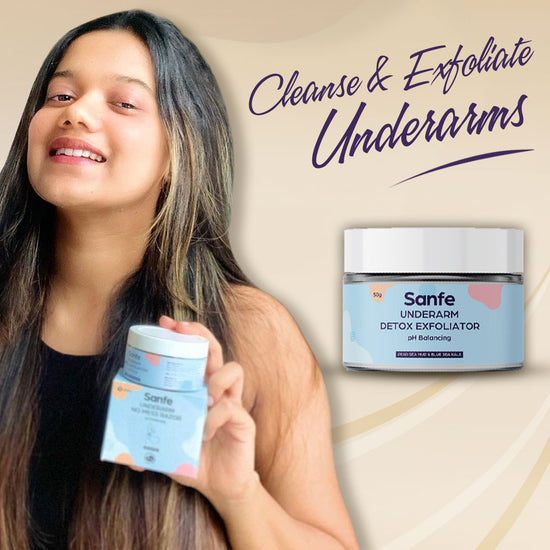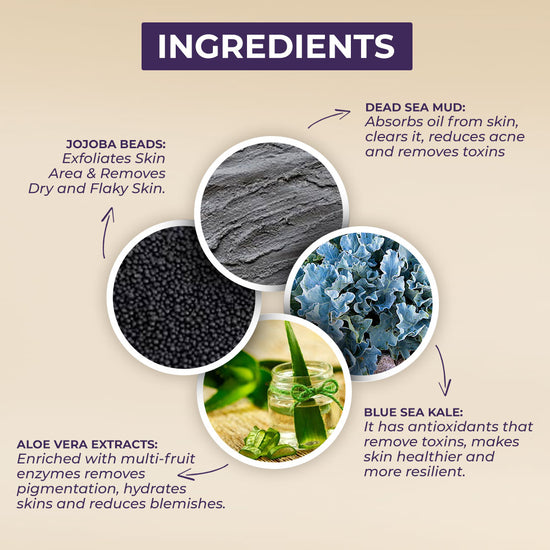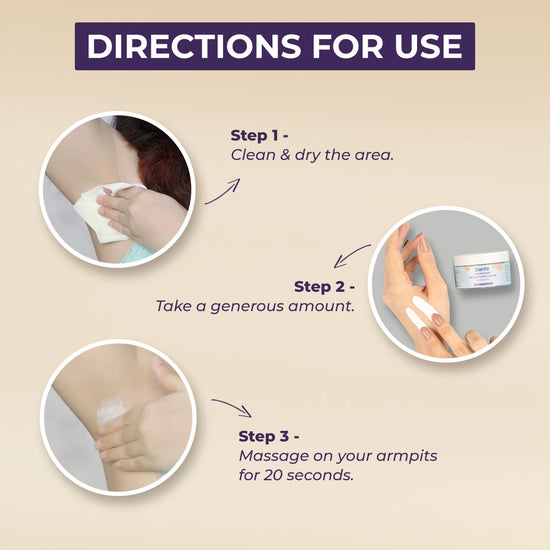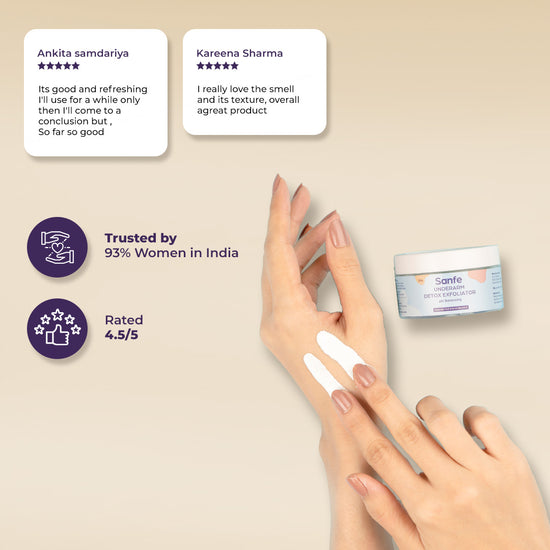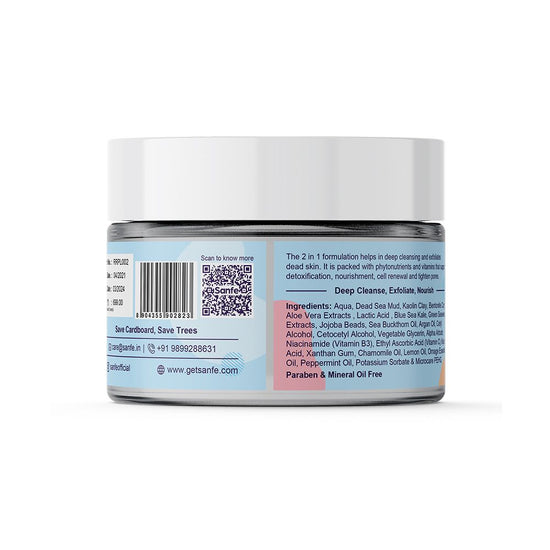 — BENEFITS —
Deep Cleanse
Exfoliate
.
Tighten Pores
Nourish
— INGREDIENTS —
Dead Sea Mud
Blue Sea Kale
Aloe Vera Extracts
Jojoba Beads
— DIRECTION FOR USE —
Step 01

Clean your skin.
Step 02

Take a generous amount, massage onto the skin for 10 seconds.
Step 03

Let it dry & wash off.
— Get To Know More —
Does it lighten up the underarms?
Sanfe Underarm Detox Exfoliator is 2 in 1 scrum cum mask that helps detoxifying and colour restoring. It helps lighten pigmentation, correct discolorations.
Can I exfoliate underarms every day?
Although exfoliation helps, however, underarm exfoliation may only be done once every week or twice a month.
Do I need to moisture the skin after exfoliating?
Although the product helps to nourish the skin, however, one can use a gentle toner or moisture after exfoliation.
Will the scrub interfere with the PH of the underarm?
Sanfe Underarm Detox Exfoliator doesn't interfere with Ph on underarm area rather it maintains it and keeps the skin hydrated.
— Delivery Related FAQ —
How many days do you take to deliver the orders?
We take 3-4 business days to deliver normally, from the day of placing the order.
How can I track my order?
After placing the order, you will get an Order ID with which you can track the status of the order on our website. Once the order is shipped, we will provide you with a tracking link so that you can track the movement of your order.
How can I return a product?
Please note that the return and refund policies are different for each product. To return a product that is eligible, please reach out to our customer care number 9310054380 or send us a mail at care@sanfe.in.
How will I get a refund for an order I have returned?
Refund is provided for prepaid orders only. Your refund will be initiated within 3-5 working days of receiving the refund request and authorization of the refund. The refund amount will be credited back into the same account (online banking, credit card, debit card, or whichever available) that was used to make the purchase.
What happens if I receive damaged/wrong products?
It is quite unlikely to receive damaged products since we take utmost care of everything related to hygiene and safety. In case you receive any damaged/wrong products, please reach out to our customer care number 9310054380 or send us a mail at care@sanfe.in at the earliest.
Sanfe Underarm Detox Exfoliator - 50g
Sanfe Underarm Detox Exfoliator - 50g
Sanfe Underarm Detox Exfoliator - 50g
Underarm detox Exfoliator
Just the perfect exfoliator, it exfoliates really well n helps to remove pigmentation also helps in even tone the skin. Must buy 💖
Underarms detox exfoliator
Its good and refreshing
I'll use for a while only then I'll come to a conclusion but ,
So far so good❤