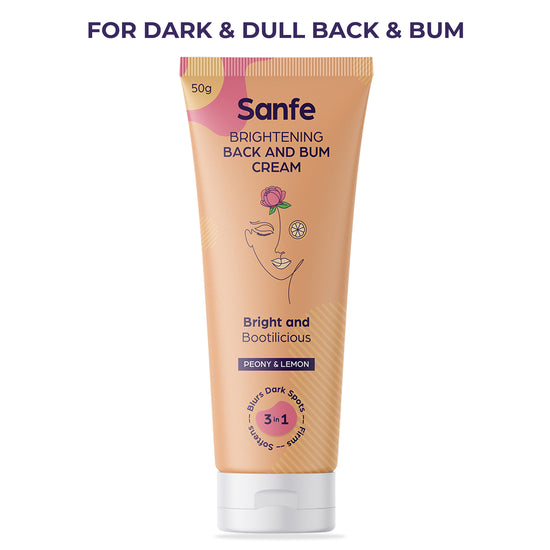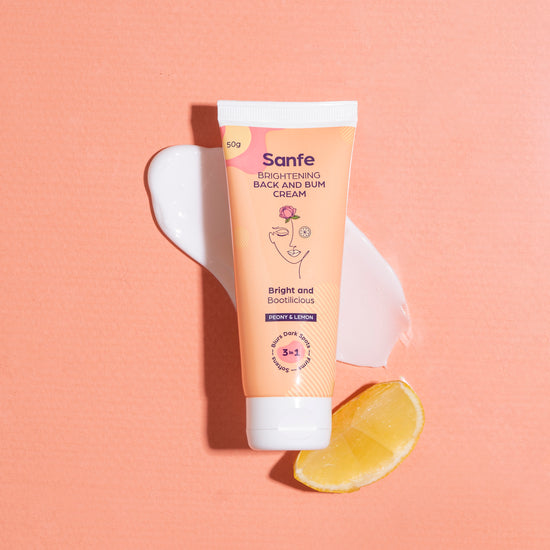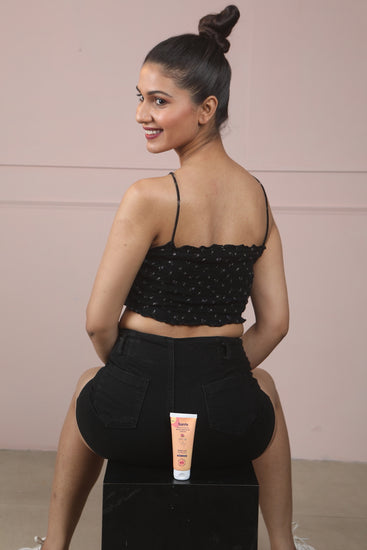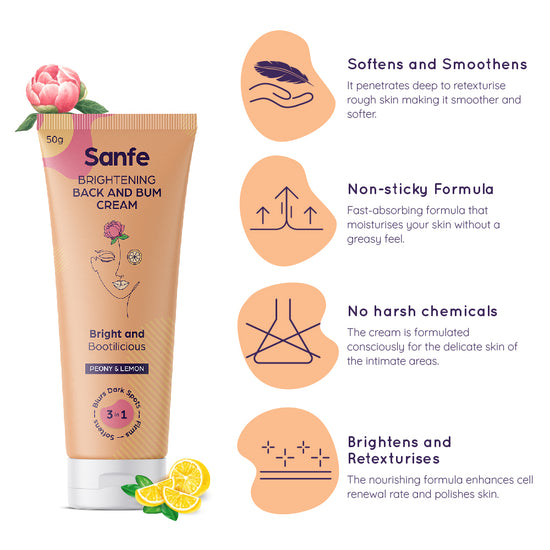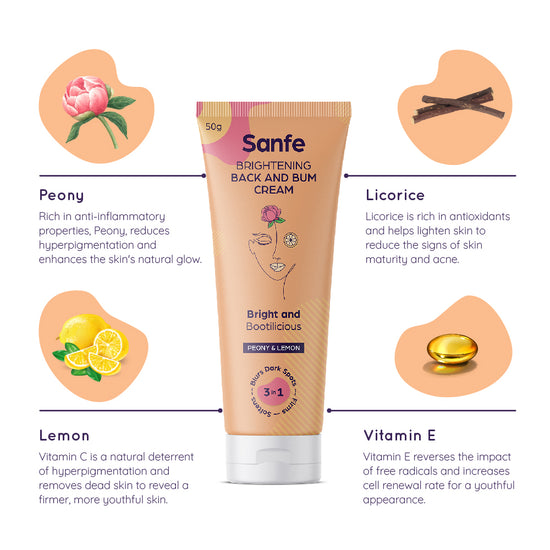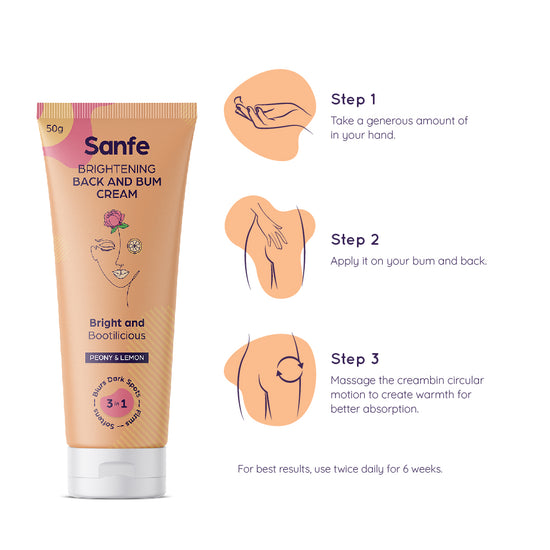 Sanfe Brightening Back and Bum Cream
Made with 100% natural ingredients, Sanfe Back and Bum Cream nourishes and smoothens the tough skin for an even-toned look! Its lightweight and non-sticky formula absorbs into the skin for natural suppleness.

— BENEFITS —
No harsh chemical
The cream is formulated consciously for the delicate skin of the intimate areas.
Softens and Smoothens
It penetrates deep to retexturize rough skin making it smoother and softer.
Brightens and Retexturises
The nourishing formula enhances cell renewal rate and polishes skin.
Non-sticky Formula
The fast-absorbing formula moisturizes your skin without a greasy feel.
— FEATURES—
Peony
Rich in anti-inflammatory properties, Peony, reduces hyperpigmentation and enhances the skin's natural glow.
Licorice
Licorice is rich in antioxidants and helps lighten skin to reduce the signs of skin maturity and acne.
Lemon
Vitamin C is a natural deterrent of hyperpigmentation and removes dead skin to reveal a firmer, more youthful skin.
Vitamin E
Vitamin E reverses the impact of free radicals and increases cell renewal rate for a youthful appearance.
— DIRECTION FOR USE —
Step 01
Take a generous amount of cream in your hand.
Step 02
Apply it on your back and bum.
Step 03
Massage the cream in a circular motion until it is completely absorbed.
— Delivery Related FAQ —
How many days do you take to deliver the orders?
We take 3-4 business days to deliver normally, from the day of placing the order.
How can I track my order?
After placing the order, you will get an Order ID with which you can track the status of the order on our website. Once the order is shipped, we will provide you with a tracking link so that you can track the movement of your order.
How can I return a product?
Please note that the return and refund policies are different for each product. To return a product that is eligible, please reach out to our customer care number 9899 288 631 or send us a mail at care@sanfe.in.
How will I get a refund for an order I have returned?
Refund is provided for prepaid orders only. Your refund will be initiated within 3-5 working days of receiving the refund request and authorization of the refund. The refund amount will be credited back into the same account (online banking, credit card, debit card, or whichever available) that was used to make the purchase.
What happens if I receive damaged/wrong products?
It is quite unlikely to receive damaged products since we take utmost care of everything related to hygiene and safety. In case you receive any damaged/wrong products, please reach out to our customer care number 9899 288 631 or send us a mail at care@sanfe.in at the earliest.
Sanfe Brightening Back And Bum Cream - 50g
Sanfe brightening back and bum cream
Since. Its have been only one week I am using it ,, and to be honest tli didnt get to see any results yet ,,,, lets wait ,, use it patiencely i will share the result after more time
Sanfe Brightening Back And Bum Cream - 50g
Girlssss, definitely go for this product if you have uneven skin tone back there. I personally used it and found great great results in just 5 weeks of application. This product has just the right consistency that is needed.
Thank you Sanfe
It has been a pleasure ever since I have started using Sanfe products and specially the back and bum cream has made me overcome my insecurities.