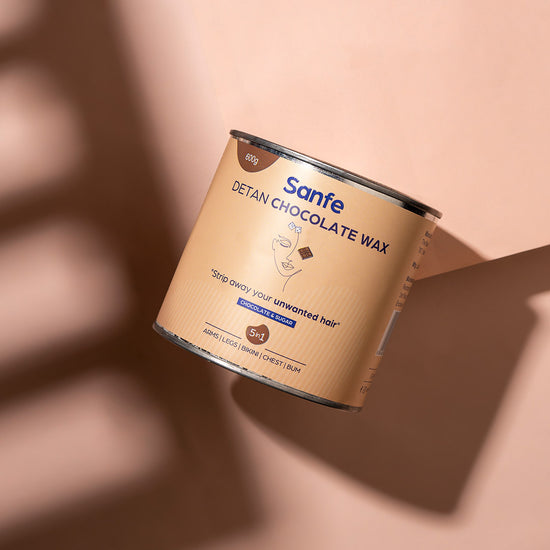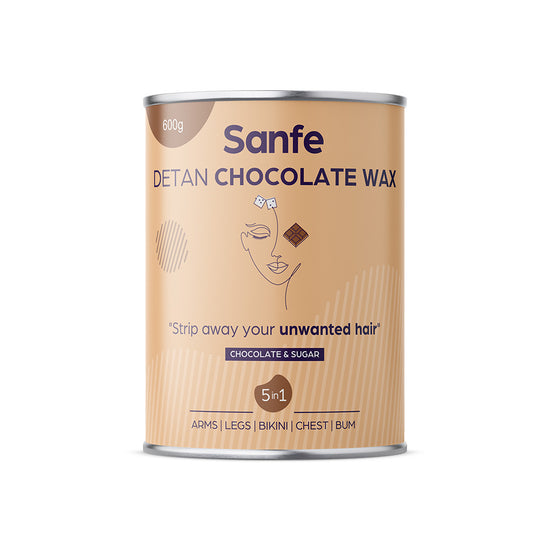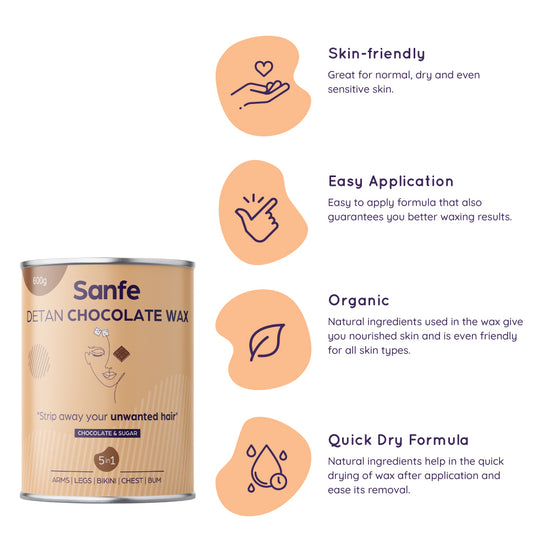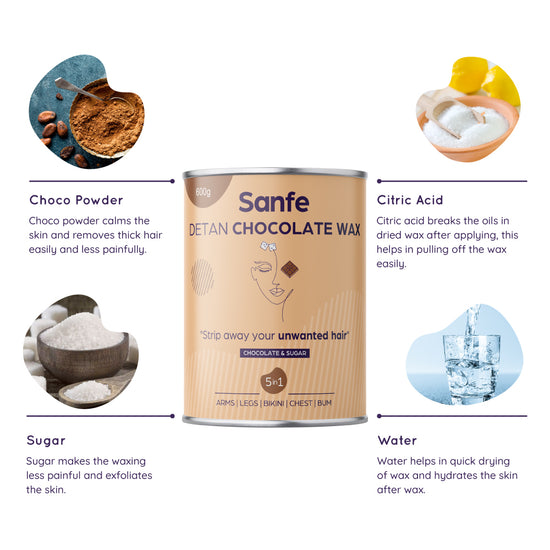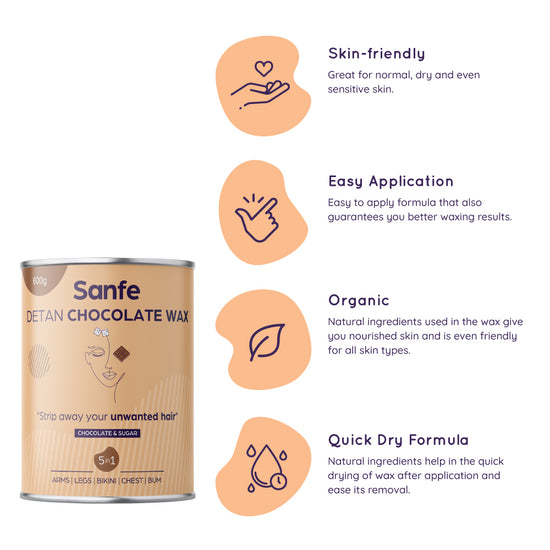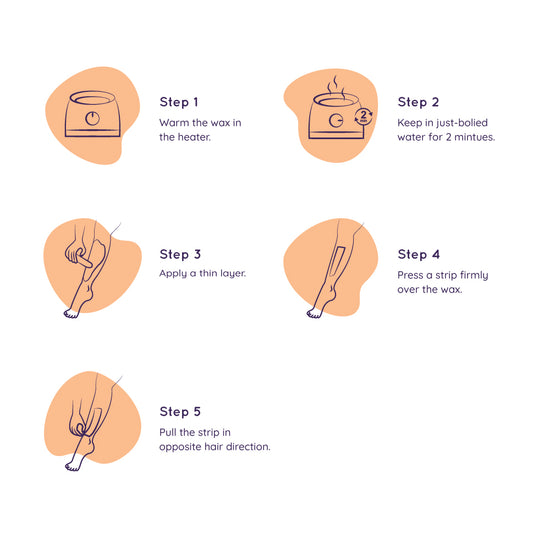 — BENEFITS —
Less Painful
100% Colophony Free
Smooth Removal
.
Slow Hair Growth
— INGREDIENTS —
Cocoa Powder
Citric Acid
Sugar
Water
— DIRECTION FOR USE —
Step 01
Open the De tan Wax and pour the contents into a heater.
Step 02
keep in just-boiled water for 2 minutes.
Step 03
Apply thin layer and press firmly over the wax.
— Get To Know More —
Can this wax be used on facial hairs?
No,It's only for the Body use purpose,For facial hair,you can try our Sanfe Glide pain-free razor.
Is the wax suitable for bikini line area?
Yes,the wax is safe to use on bikini line area,it's less painful hair removal and gives a buttery soft skin with no redness post wax.
Is this stripless wax?
No,This is a soft wax and requires strips for removal.
Is this suitable for Oily skin?
Yes, Sanfe's De-tan Chocolate Wax is suitable all skin types.
How to do a patch test?
1. Clean the inner area of your upper arm and apply one drop of the product. If you're testing it after a hot shower, wait for 15 minutes to return the skin to its normal state.
2. Use as directed and rinse off.
3. Leave the patch test for 24 hours at a minimum. Make sure the patch does not get wet.
4. Note the result after 24 hours. If you do not experience any redness, itching, bumps or irritation, then you can safely use the product.
— Delivery & Returns —
How many days do you take to deliver the orders?
We take 3-4 business days to deliver normally, from the day of placing the order.
How can I track my order?
After placing the order, you will get an Order ID with which you can track the status of the order on our website. Once the order is shipped, we will provide you with a tracking link so that you can track the movement of your order.
How can I return a product?
Please note that the return and refund policies are different for each product. To return a product which is eligible, please reach out to our customer care number 9310054380 or send us a mail at care@sanfe.in.
How will I get a refund for an order I have returned?
Refund is provided for prepaid orders only. Your refund will be initiated within 3-5 working days of receiving the refund request and authorization of the refund. The refund amount will be credited back into the same account (online banking, credit card, debit card, or whichever available) that was used to make the purchase.
What happens if I receive damaged/wrong products?
It is quite unlikely to receive damaged products since we take utmost care of everything related to hygiene and safety. In case you receive any damaged/wrong products, please reach out to our customer care number
9310054380
or send us a mail at care@sanfe.in at the earliest.
Good product
The fragrance of this product is really good & got discount on it by using the GrabOn code