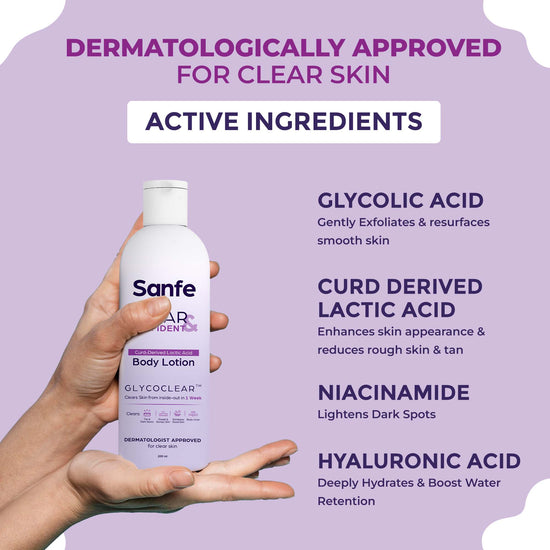 Great work Sanfe!
I've been searching for a product to address my uneven skin tone and rough texture, and this Glycolic Acid Body Lotion is the answer. The glycolic acid provides a gentle exfoliation that has made a visible difference in the clarity and brightness of my skin. I love how it hydrates without feeling greasy. I'm thrilled with the results and will continue to use this fantastic lotion.
Go for it!
As someone with sensitive skin, I was hesitant to try glycolic acid, but this body lotion has won me over. It's incredibly gentle yet effective. I've seen a noticeable improvement in my skin's texture, and it's done wonders for my dry patches. The added shea butter is a game-changer in keeping my skin hydrated and comfortable.
Don't think twice, a must have product for you!
I can't get enough of this Body Lotion. It's done wonders for my skin. The glycolic acid gently exfoliates away dead skin cells, leaving my skin looking brighter and feeling smoother. The moisturizing benefits are fantastic, and I love that it helps with my Keratosis Pilaris. It's a must-have in my skincare routine.
Cured my uneven skin tone
I've struggled with uneven skin tone and dry patches for years, but this Glycolic Acid Body Lotion has been a game-changer. After just a few uses, I started noticing a significant improvement. My skin feels so soft, and I've even noticed my dark spots fading. It's lightweight and absorbs quickly, making it perfect for daily use. Highly recommended!
Best Lotion I have ever used!
Wow, I'm blown away by the results of this Glycolic Acid Body Lotion. It's become a staple in my skincare routine. It gently exfoliates, leaving my skin noticeably smoother and more radiant. Plus, the added shea butter keeps my skin incredibly moisturized. I can confidently say that my skin has never felt better!