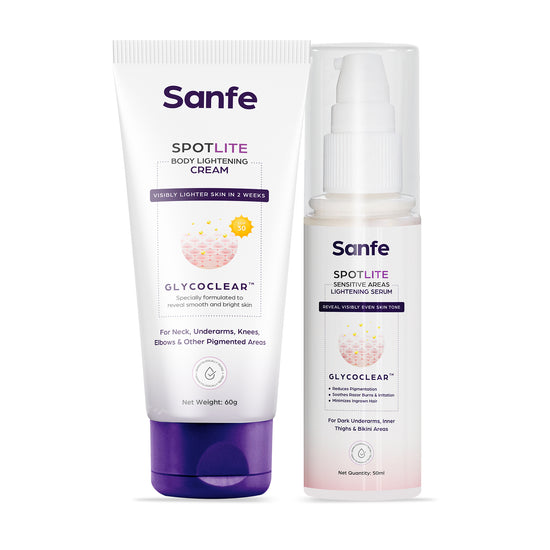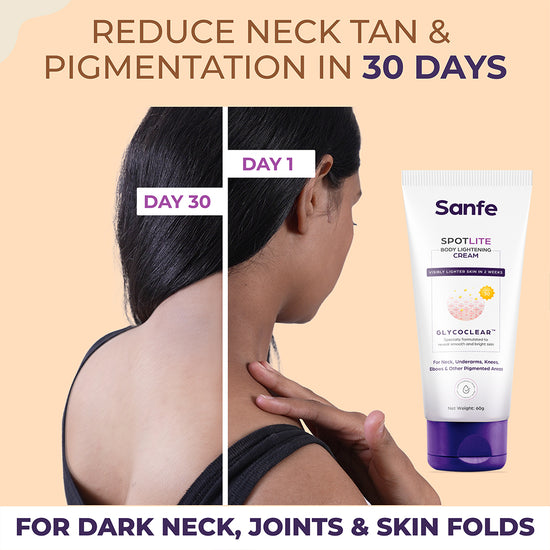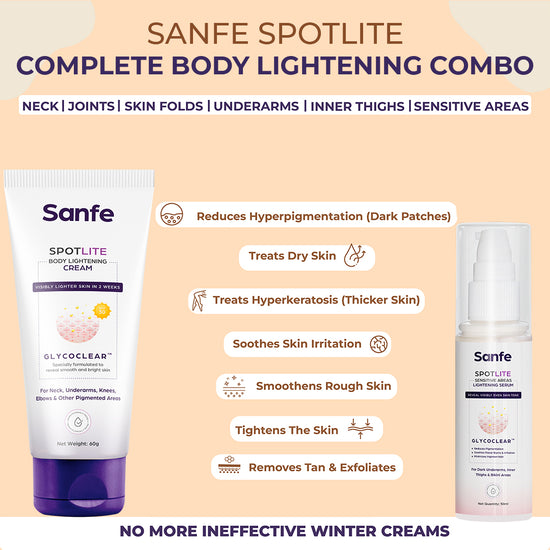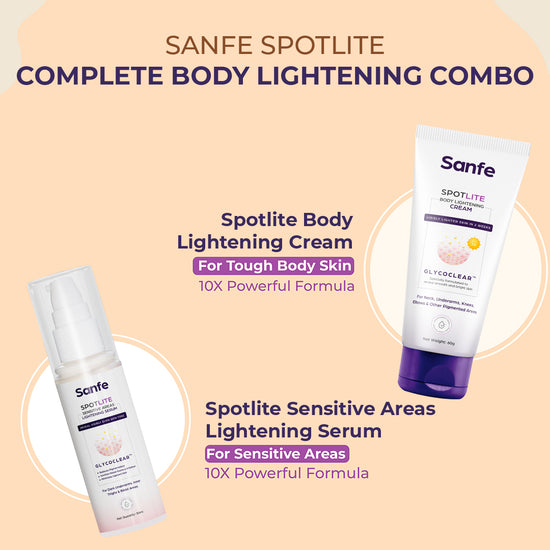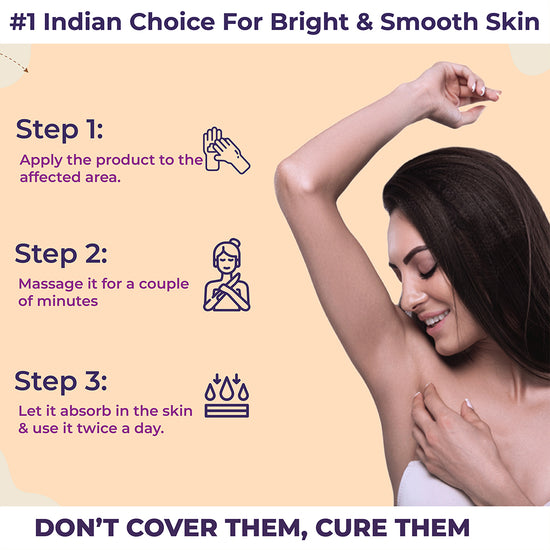 Sanfe Spotlite Complete Body Lightening Combo | For Dark Neck, Underarms, Inner Thighs, Joints | 3X Quicker Penetration with Glycodeep Technology | 2 Step Body Care Routine for women - Glo Cream and Lightening Serum 110gm

— WHAT IS GLYCOCLEAR TECHNOLOGY —
Day 1 Exfoliation 

To reduce dark spots from day one, exfoliating the top skin layer with dead cells is important and furthermore, enhances the penetration of actives to the core. 
Accelerated Penetration 

Our breakthrough formulation with Glycoclear technology helps accelerated penetration of actives, making it 3X quick in action.

SPF 15 Protection

Here is where other products neglect your skin, hampering your natural skin barrier. Our SPF 15 formulation, ensures your skin have protection while the other actives are fighting with dark spots.
Cream is useless
This new upgraded spotlight cream is so bad that it gives ur skin an overwhitening texture and doesnt show any results its waste of money ...u cant go outside after applying this cream although the serum is good
complete care!
I'm in love with the Sanfe Spotlite Complete Body Lightening Combo! The cream and serum have transformed my sensitive areas and other problem areas. They effectively exfoliate, removing dead skin cells and reducing darkness. My skin feels smoother, brighter, and more confident. This combo is a must-have for anyone seeking a spotless and glowing
Really Impressed by the performance!
I can't recommend the Sanfe Spotlite Complete Body Lightening Combo enough! The cream and serum are a powerful duo that effectively exfoliate and lighten dark spots on my neckline, underarms and other body areas. With consistent use, I've noticed a significant improvement in my skin's tone and texture. Say hello to a brighter, more radiant you! 🌟✨
Amazing kit
The Sanfe Spotlite Complete Body Lightening Combo is a dream come true! The cream and serum work like magic to lighten dark areas on my underarms and other body parts. The exfoliating properties leave my skin feeling smooth and rejuvenated. Say goodbye to darkness and hello to a brighter, more confident you! ✨💕
Sanfe Spotlite complete body lightening combo
This works amazing even on the oldest dark spots. The results are great 💯. Amazing product, i do recommend to use this if you want to get rid of your old to oldest dark spots