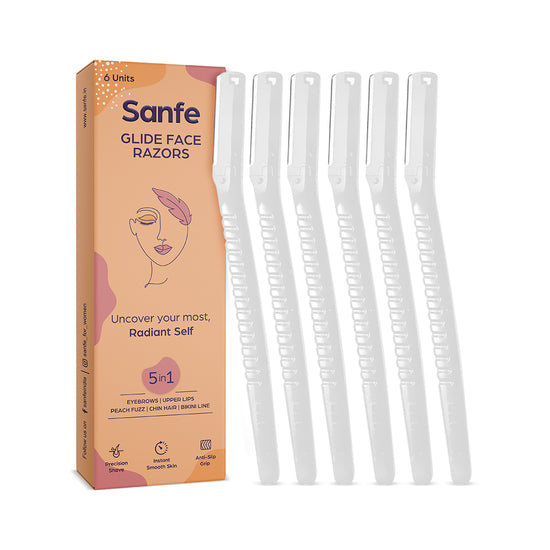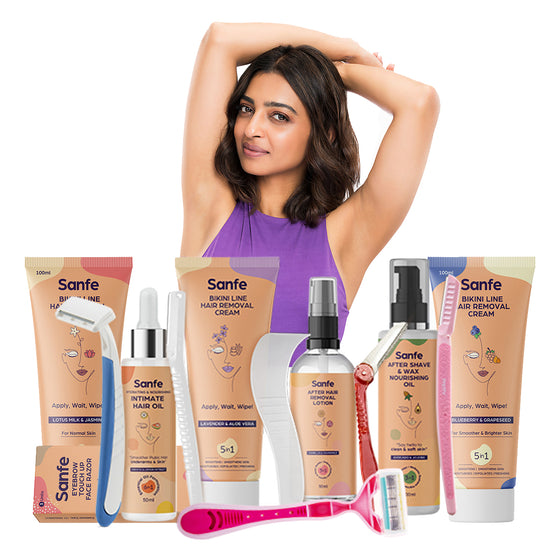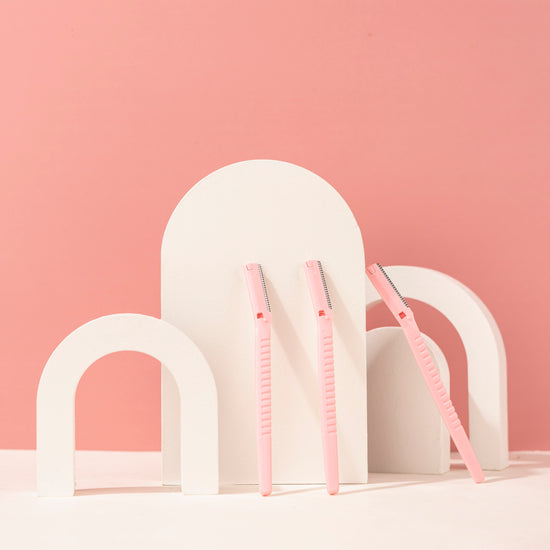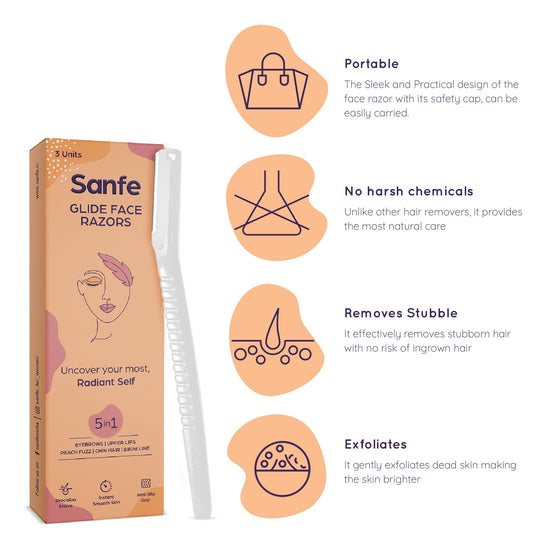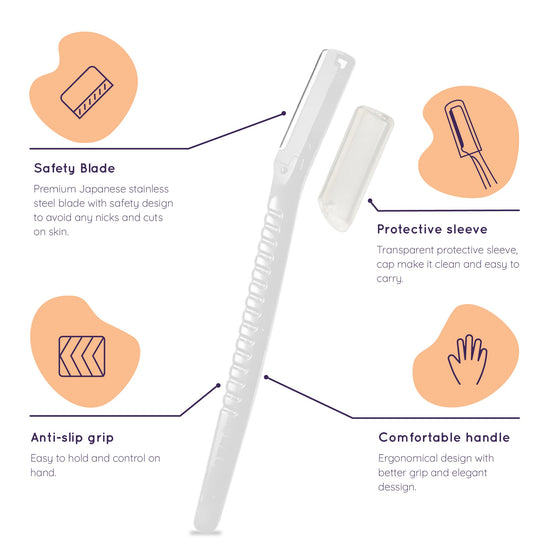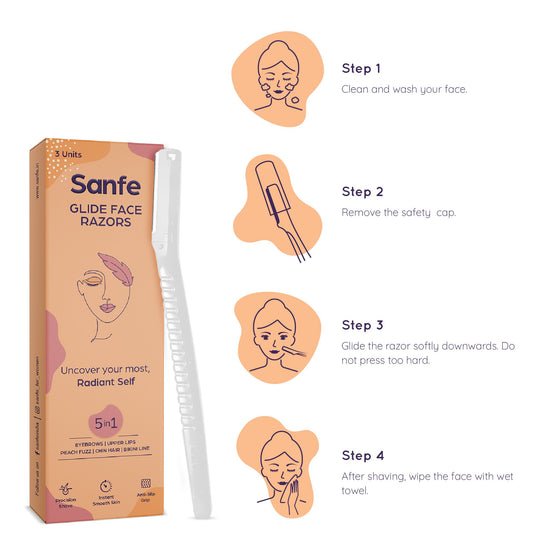 Sanfe Glide Face Razor 
Waxing is painful, threading is ineffective and the laser doesn't help too. It's time to switch to a pain free way to remove facial hair - Sanfe Glide Face Razor. Made with Japanese steel, it is precise, comfortable to hold and move around, and has a safety cover for easy storage.

Get rid of unwanted hair on eyebrows, upper lips, sideburns, peach fuzz, and chin with Glide. Just open the cap and glide it on your face. Achieve a pain-free polished look within minutes!
— BENEFITS —
Removes
Stubble

It effectively removes the tiniest and most stubborn hair easily.
Exfoliates


It gently exfoliates dead skin making the skin appear brighter.
No Harsh
Material
Glide's blade is stainless steel that resists bacterial growth.
Portable
Design
Its sleek and practical design with a safety cover makes it great for traveling.
— FEATURES —
Protective
Sleeve
Transparent protective sleeve for safe carrying and hygiene.
Safety
Blade

Japanese steel blade that avoids incidents of deep cuts
Comfortable
Handle
Sleek and comfortable handle that doesn't dig into the fingers.
Anti-Slip
Grip
Ergonomic design with firm grip for easy handling and use.
— DIRECTION FOR USE —
Step 01


Clean and wash your face.

Step 02


Remove the safety cap.
Step 03


Glide the razor softly downwards. Do not press too hard
Step 04


After shaving, wipe the face with a wet towel.
— Get To Know More —
Can this be used for removing underarm hair?
Yes, the blade can be used on coarse hair of underarms in case of emergency. However, the removal may not be as clean as it would be for fine facial hair.
Is it possible to get infections because of this product?
The blade is made of stainless steel and thus, the chances for infection are lean, but not zero. We suggest wiping the blade with anti-septic lotion after each usage.
How to clean or disinfect the blade?
Take a cotton ball and pour a few drops of anti-septic lotion on it. Now, carefully wipe the blade, let it dry, and then cover with the safety cap.
How many times can these blades be used?
It is reusable for up to 5 times. After that, the blade will not be as sharp and may require more pressure to remove hair. It is best to use a fresh razor in such a situation.
Sanfe Glide Face Razor for painfree facial hair removal (6 units)
Sanfe Glide Face Razor for painfree facial hair removal (6 units)
Sanfe Glide Face Razor for painfree facial hair removal (6 units)
must buy
I have gifted this razor to my sister n mom, they both loved it I m personally using it from 6 months, I am very happy with the results.