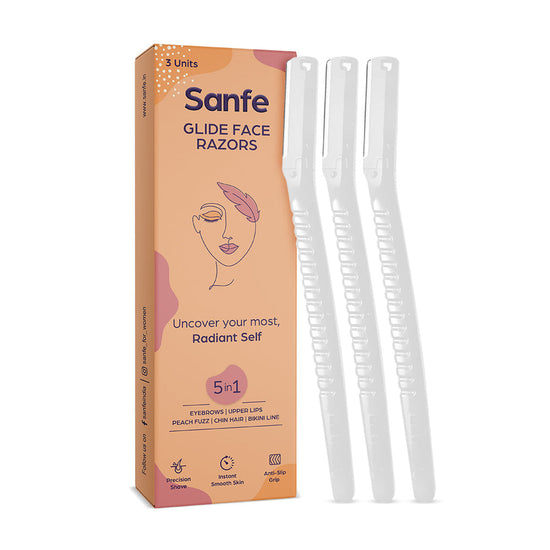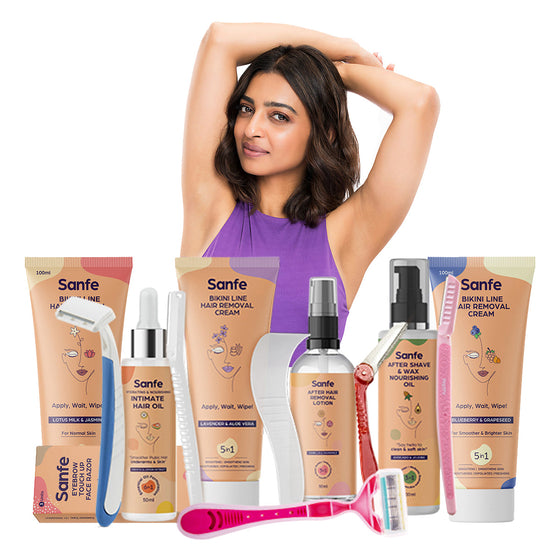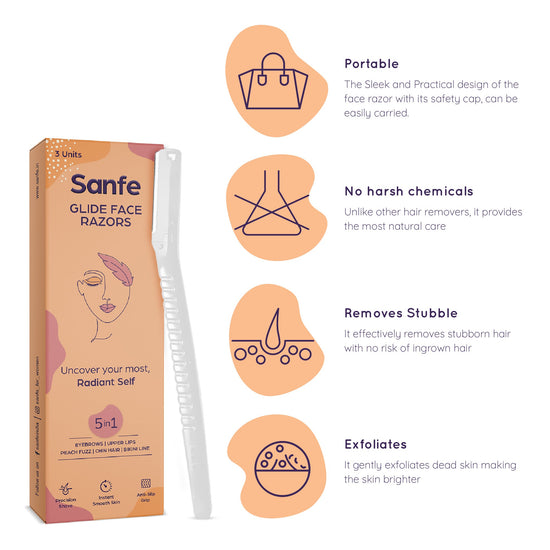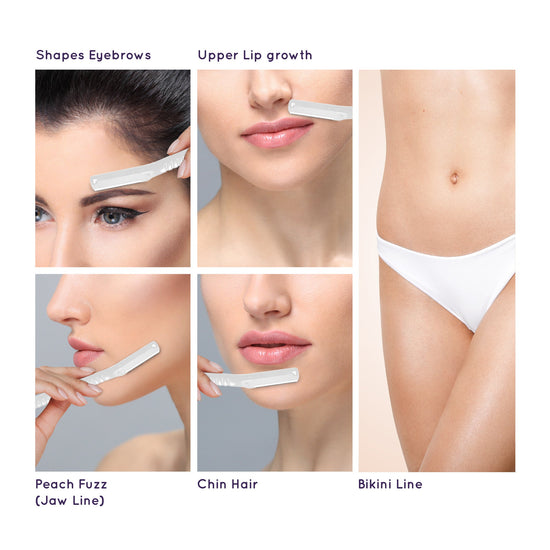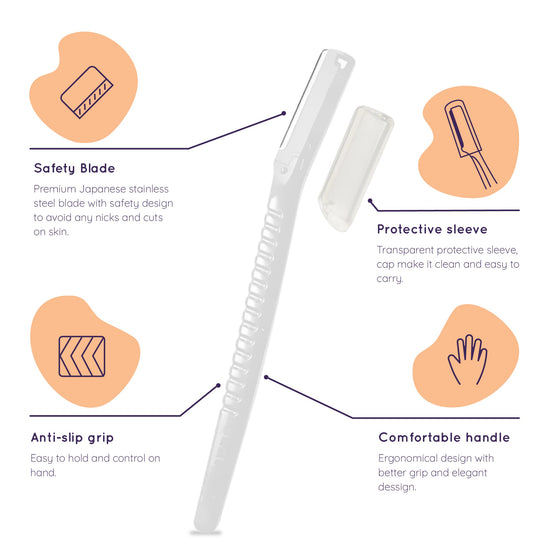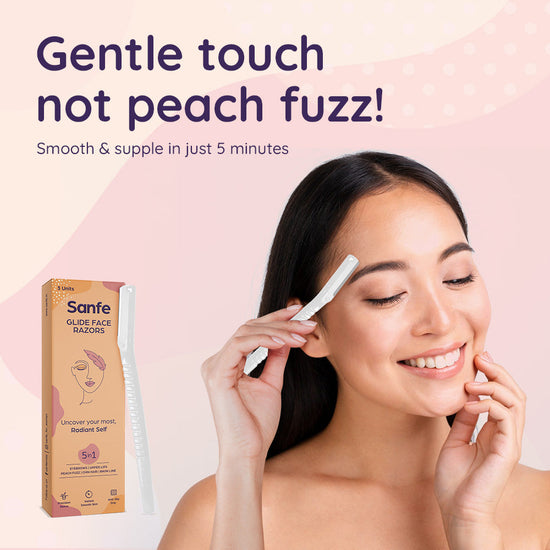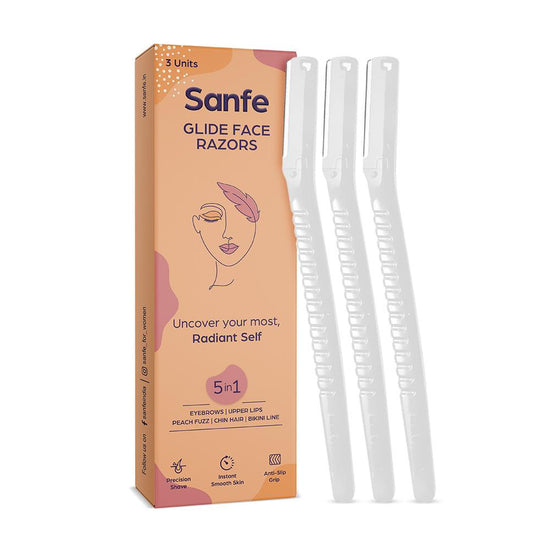 Instant & Painless: Allows instant removal of facial hair, without any pain or cuts caused by other hair removal methods

Precision Hair Removal: The anti-slip grip & curved razor blade provides precision targeting at the right spots for flawless results

Hygienic & Safe: The protective cap protects the razor from any impurities & the stainless steel makes it completely safe for use

Beautiful Skin: Removes unwanted hair on eyebrows, upper lip, forehead, peach fuzz, chin, & sideburns revealing beautiful skin

Better Skincare: Gently exfoliates dead skin, allowing deeper & better penetration of skincare products
Fastest, easiest, and safest way to remove facial hair
Whether you keep your facial hair or shave it off is completely your choice. However, if you want to shave it off, use a razor that is safe, painless, and easy to use. The Sanfe Facial Razor guarantees you just that!
Key Features
Stainless Steel Blade With Zigzag Pattern

The stainless steel blade makes it completely safe for use, while the zigzag pattern on the blade helps minimize cuts.

Precision Shave

The curved razor blade provides precision targeting at the right spots for flawless results.

Anti-Slip Grip

The anti-slip grip prevents accidental cuts.

Protective Cap

The protective cap protects the razor from impurities.
Get your queries answered!
Does hair grow back thicker and darker after each shave?
No, that is a myth. A razor cannot alter the growth rate, thickness, or colour of your hair. When hair gets shaved, it's cut at the shaft. That is why, it looks thicker while it's growing back.
Will the razor make your skin rough?
No, it won't! In fact, shaving removes dead skin cells, along with the hair, which makes your skin softer and smoother.
Can you share your razor?
It is never advisable to share your razor with anyone. It can cause infections if you accidentally cut yourself.
Benefits
Instant and painless removal of facial hair

No cuts because of zigzag pattern on blade

Gentle exfoliation of dead skin, revealing natural glow

Deeper & better penetration of skincare products into skin

Softer, smoother, & even-toned skin
Get Flawless Skin
Where to use a facial razor?
Use the Sanfe Facial Razor to remove unwanted hair from your eyebrows, upper lip, forehead, peach fuzz, chin, & sideburns, thereby revealing beautiful skin!
How to Use?
Step 1

Wash your face with a facewash and pat dry. Apply some aloe vera gel or use a moisturizer before shaving.

Step 2

Hold your skin tightly and move the razor in a downward direction while applying as little pressure as possible.

Step 3

Wash the razor and place the protective cover back on.

Step 4

Cleanse your face thoroughly and apply a generous amount of moisturizer.
Safe products for all Womankind
At Sanfe, we are constantly striving to make intimate care safer for women. With products that are made with natural ingredients and have no harsh synthetics and chemicals, and innovations that are made keeping women's comfort in mind, we aim to bring a change in how women experience intimate hygiene. We hope that you'll join us in this celebration of womankind.
Sanfe Glide Face Razor for painfree facial hair removal