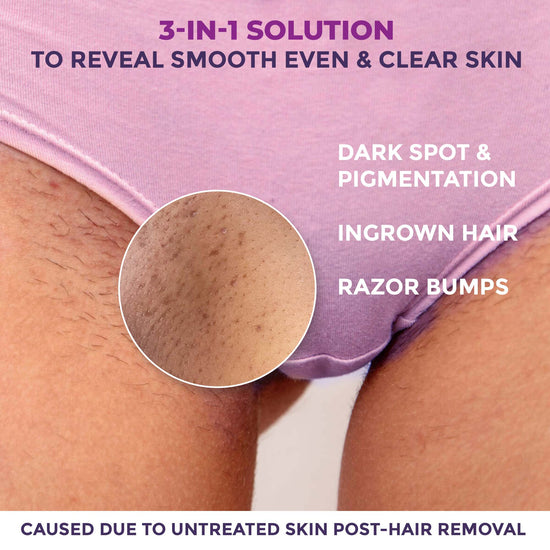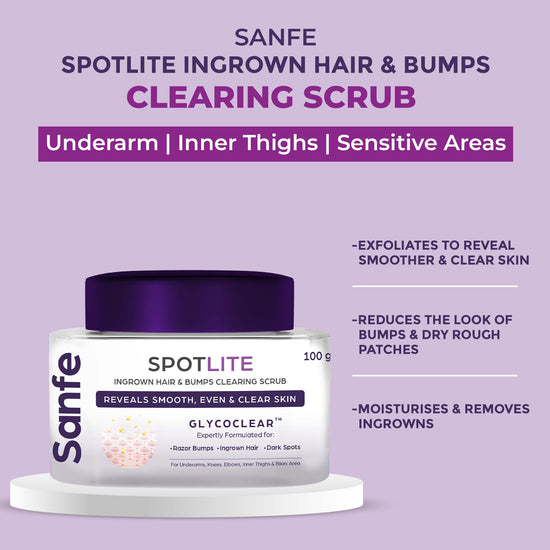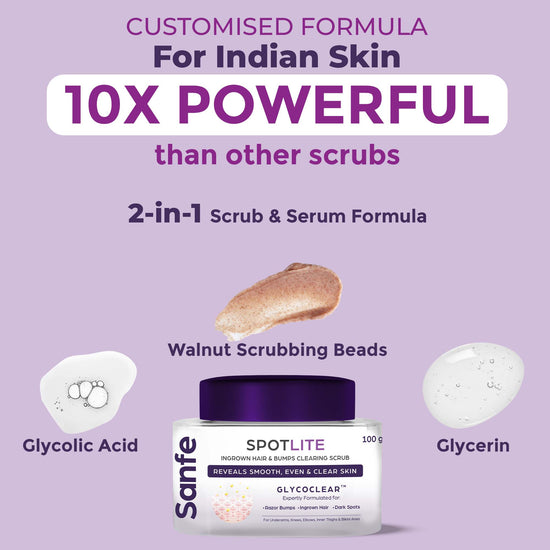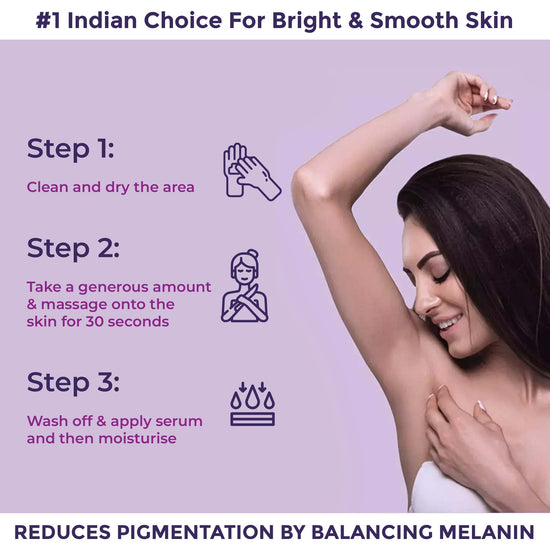 Sanfe Spotlite Sensitive Areas Body Scrub For Dark Underarms, Inner Thighs And Sensitive Areas | Enriched With Shea Butter, Aloe Vera - 50gm

— WHAT IS GLOCOPEEL TECHNOLOGY—
Day 1 Exfoliation 

To reduce dark spots from day one, exfoliating the top skin layer with dead cells is important and furthermore, enhances the penetration of actives to the core. 
Accelerated Penetration

Our breakthrough formulation with Glycodeep technology helps accelerated penetration of actives, making it 3X quick in action.

Freshness

Sensitive areas need special care, because of different skin compositions. Our unique formulation provides instant freshness, leaving your underarms, inner thighs, and sensitive areas soft, hydrated, and refreshed.
Amazing!
The product provided itself as it claimed. Almost 50% dark spot gone with in one month of use. I recommend for it.
Go Get This Scrub- FAST!
"Sanfe Spotlite Scrub is a holy grail product for me. It does wonders in exfoliating my skin and getting rid of pesky ingrown hairs. The scrub is gentle yet effective, and the results are fantastic. I can't recommend it enough!" ⭐⭐⭐⭐⭐
Good and Safe product!
"I'm in love with Sanfe Spotlite Scrub! It has become an essential part of my skincare routine. The scrub effectively exfoliates my skin, leaving it soft and radiant. It also helps to remove ingrown hairs, making my skin look and feel amazing. A must-try!" ⭐⭐⭐⭐⭐
Really Impressed by the performance!
Sanfe Spotlite Scrub is a game-changer! It not only exfoliates my skin beautifully but also helps to remove stubborn ingrown hairs. My skin feels incredibly smooth and rejuvenated after each use. Highly recommended for anyone looking for an effective exfoliating scrub." ⭐⭐⭐⭐⭐
Really Effective!
The product was well packaged and delivered in perfect condition. It has a very mild scent. In terms of scrubbing efficacy, it contains granules which are neither too harsh nor too soft on skin, which accounts for an enjoyable scrubbing experience. The texture and consistency is perfect - neither too thick nor runny. It effectively removes dirt and dead cells after scrubbing with water. The after effect is not an oily slithery skin bt a skin dat feels fresh,soft n smooth.